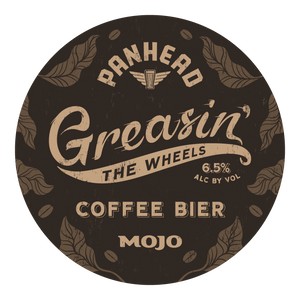 Greasin The Wheels Coffee Bier 1.25L Rigger
Pick up available from Panhead Brewery in Upper Hutt.

Nationwide shipping available Monday - Wednesday.
Wellington area shipping available Monday - Thursday.

STYLE
Doppelbock
ABV
6.5%
Initial notes of dried-fruit and spice from the coffee are supported by the dried-fruit and caramel flavours from the malt in the aroma.
The Immensely rich, sweet, nutty and toffee flavours of the malt are contrasted by the acidity and fruitiness of the coffee.