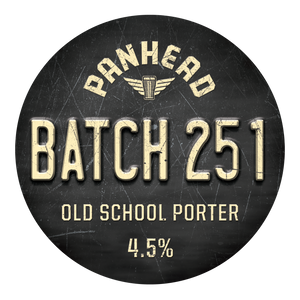 Batch 251 Old School Porter 1.25L Rigger
Pick up available from Panhead Brewery in Upper Hutt.

Nationwide shipping available Monday - Wednesday.
Wellington area shipping available Monday - Thursday.

STYLE
Porter
ABV
4.5%
Pouring dark black with a tan head.
Rich chocolate and caramel with subtle-roast flavours and aromas dominate.
The subtle manuka smoke character comes through in the finish.
Smooth mouthfeel with a sweet body, balanced by an assertive bitterness.